J. Julius Bolock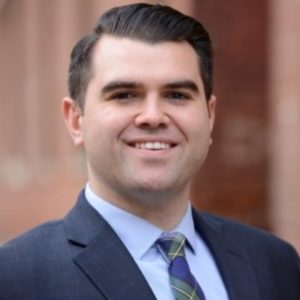 Address: 200 First Ave., 3rd Floor
Pittsburgh, PA, 15222-1512
Phone: (412) 765-3800
Contact Me
J.J.'s practice currently focuses on assisting clients in complex litigation and cases related to personal injury, business law, premises and products liability, medical malpractice, wrongful death, trucking accidents, motor vehicle accidents, contract issues and general civil litigation.
J.J. is an active member of the Allegheny County Bar Association, specifically the Young Lawyers Divison. In 2016, J.J. was selected to be a part of the 2016-17 Bar Leadership Initiative Class, which is a program to develop professional and community leadership skills and to position class members to assume leadership positions in the Allegheny County Bar Association. J.J. is a graduate of Duquesne University School of Law, where he was research editor of the Duquesne Business Law Journal. J.J. is also a graduate of Indiana University in Bloomington, Indiana where he was a member of the varsity tennis team.
In J.J.'s short but experience packed litigation career he has successfully represented clients in dispositive motions in various counties in Pennsylvania. He has also successfully tried cases in arbitration and has favorably resolved cases through mediation. Prior to joining Portnoy & Quinn, LLC, J.J. gained valuable knowledge working in the energy departments of several prominent land companies and law firms in the Pittsburgh, PA area.
Practice Areas
Business law
Motor vehicle accidents
Contract issues and general civil litigation
Education
Duquesne University School of Law, Juris Doctor, 2014
Indiana University Bloomington, Bachelor of Science in Public Affairs, Legal Studies, 2011
Experience
Quinn Logue, LLC, Associate Attorney, 2016-Present
CONSOL Energy, Contract Attorney, 2016-2016
Babst Calland, Contract Attorney, 2015-2016
Gordon & Rees, LLP, Contract Attorney, 2015-2015
Organizations
Allegheny County Bar Association, Bar leadership Initiative Class Member, October 2014- Present
Duquesne Business Law Journal, March 2013- June 2014
Sports and Entertainment Law Society, September 2013- June 2014
Publications
Duquesne Business Law Journal, May 10, 2013