James R. Thornburg, Esq.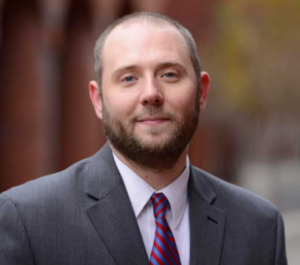 Address: 200 First Ave., 3rd Floor
Pittsburgh, PA, 15222-1512
Phone: (412) 765-3800
Contact Me
James focuses his practice on representing clients in civil litigation, including personal injury, commercial litigation, class actions, and appellate litigation. His practice includes motor vehicle accidents, medical malpractice, wrongful death, natural gas litigation, commercial real estate litigation, and other complex matters. He also represented the 2011 Pennsylvania Legislative Reapportionment Commission. In his practice of appellate litigation, James has represented clients in appeals before the Pennsylvania Supreme Court, Superior Court, and Commonwealth Court. He also has experience in criminal defense and DUI defense. James joined the law firm Del Sole Cavanaugh Stroyd in 2010 after he graduated from law school, then worked at Logue Law Firm from its inception in 2012 until 2015, when it became Vari & Logue.
James attended law school at Duquesne University School of Law, where he graduated summa cum laude in 2010. He was a published contributor and editorial board member of the Duquesne Law Review, serving as Executive Criminal Procedure Editor and Associate Comment Editor. He was also a published contributor and senior staff member of the Duquesne Business Law Journal. James received the Honorable Carol Los Mansmann Excellence in Writing Award, the CALI Award for Excellence in the Study of Estates & Trusts, and the CALI Award for Excellence in the Study of International Law. He was also the president of the Duquesne Student Chapter of the Federalist Society. While in law school, James worked as an intern for Judge Thomas Hardiman of the U.S. Court of Appeals for the Third Circuit and was a research assistant at the Potomac Institute for Policy Studies in Washington DC.
James graduated magna cum laude from Allegheny College in 2007 with a B.A. in English. He wrote his thesis on Shakespeare's Hamlet and was a member of the Sigma Tau Delta English honor society and Phi Alpha Theta history honor society.
Practice Areas
Contracts and agreements
Appeals
Class action
Education
Duquesne University School of Law, J.D., 2010
Allegheny College, BA English, 2007
Associations & Awards
Allegheny County Bar Association
Federalist Society
CALI Award for Excellence in the Study of International Law, 2009
Honorable Carol Los Mansmann Excellence in Writing Award, 2008
CALI Award for Excellence in the Study of Estates & Trusts, 2008
Publications
Duquesne Law Review, 2010: Balancing Act in Black Robes: Extraterritorial Habeas Corpus Jurisdiction Beyond Boumediene
Duquesne Business Law Journal, 2010: State Enforcement of State Fair-lending Laws Against National Banks is Not an Exercise of Visitorial Powers Reserved Exclusively to the Federal Government by the Nationals Bank Act: Cumo v. Clearing House Association, LLC.
Duquesne Law Review, 2009: Aliens Detained at Guantanamo Bay Have a Constitutional Right to File Habeas Corpus Petitions in Federal Court: Boumedienne v. Bush