4 Risky Behaviors That Cause Truck Accidents
September 30, 2021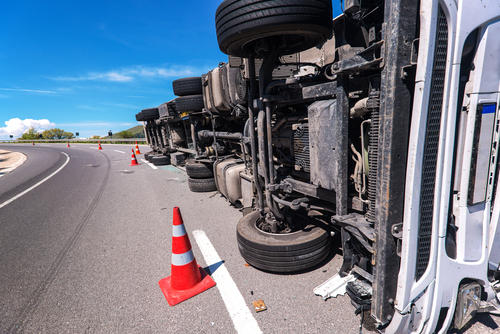 Commercial trucking has become crucial to the United States. Not very often will you drive down a busy freeway and not notice at least a few trucks. While the majority of these trucks practice safe driving habits and don't cause crashes, others do.
Skipping safety precautions or failing to be aware of your surroundings can lead to dangerous truck accidents. Understanding the risks, and the most common causes of these accidents can help you stay safe on the road.
Common Behaviors That Can Lead to Truck Accidents in Pennsylvania
Here are a few of the most common behaviors that may lead to an increased risk of truck accidents occurring in Pennsylvania:
Driving While Fatigued
Pushing on despite being tired may seem like just another part of the job. But, this can be dangerous regardless if you are driving a passenger vehicle or a truck. Truck drivers may be under strict time deliveries, which may encourage them to continue driving even when they are tired. Experts, however, have compared drowsy driving to have many of the same effects as drunk driving. When you feel fatigued, it's always a good idea to pull over.
Improper Maintenance
Vehicles of all types, but especially commercial trucks, require routine preventative maintenance and care. Skipping this maintenance can lead to untimely mechanical problems, which can put the truck driver and other drivers on the road at risk when driving. This may include things like tire blowouts or broken headlights.
Improper Training
All drivers are required to undergo driver training before driving a vehicle, whether it's a passenger vehicle or a commercial truck. Some trucking companies may relax these rules when hiring employees. They may also not check credentials when hiring. Improper training can lead to an increase in driver error, which can also increase the risk of causing an accident.
Bad Hiring
Trucking companies can further be responsible when they make bad hiring decisions. Trucking companies may ignore criminal background requirements to fill driver positions. They may ignore charges like a DUI or numerous accidents on their record. This can lead to drivers on the road who are less safe.
Of course, there are other causes that can lead to commercial trucking accidents. Also, while it's important for truck drivers to be aware of their surroundings and to drive in a safe manner, it's also the responsibility of other drivers on the road to do the same. This means giving truck drivers enough distance and avoiding cutting them off. It also means being extra aware when driving near commercial trucks, as they don't have the same safety or stopping capabilities.
Truck Accident? Know Your Legal Rights
If you're injured in a truck accident, it's important to understand your legal rights and it may be beneficial to work with a lawyer. It's not always clear who is responsible when a truck accident occurs. It can be the fault of the driver, the trucking company, or even another driver. A lawyer can offer you their legal knowledge and investigative skills to find out what happened.
Contact a Pittsburgh Personal Injury Lawyer to Discuss Your Truck Accident Case in Pennsylvania
Did you or a loved one sustain serious injuries due to a truck accident in Pennsylvania? Don't let the medical bills pile up while you wait for the negligent party or their insurance company to do the right thing. Right now, you need an aggressive personal injury attorney on your side, fighting to get you the compensation you need, want, and deserve. The skilled attorneys at Quinn Logue LLC represent clients injured because of a truck accident in Pittsburgh, Penn Hills Township, Mount Lebanon Township, Bethel Park, and throughout Pennsylvania. Call (412) 765-3800 or fill out our online contact form to schedule a free consultation about your case. We have an office conveniently located at 200 First Ave., 3rd Floor, Pittsburgh, PA 15222-1512, as well as an office in Scranton, PA.
The articles on this blog are for informative purposes only and are no substitute for legal advice or an attorney-client relationship. If you are seeking legal advice, please contact our law firm directly.