How to Prove Liability in a Slip and Fall Accident Case
April 28, 2021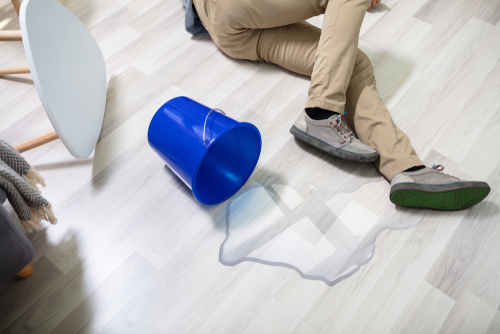 Slipping and falling, whether it is on a wet floor or from a broken floorboard, can be painful and expensive. But in many cases, you'll need to prove liability if you want to file a personal injury case and collect compensation. Continue reading to learn more about who may be held liable in a slip and fall accident case in Pennsylvania.
What Does Liability Mean in a Slip and Fall Case?
Liability refers to the responsible party in a slip and fall case. This could be anyone who negligently causes you to slip and fall, including:
An employee
The property owner
The store manager
The parking lot maintenance
It is not always easy to determine who is at fault when a slip and fall accident occurs. This is because when you slip and fall, you are initially focused on the pain and then receiving medical care. By the time you realize that you may need to seek damages from the responsible person, much of the evidence you need may be gone.
Read more: Insurance and Premise Liability Claims in Pennsylvania
Why You Should Work With a Slip and Fall Accident Lawyer
It can be helpful to your case to work with a premises liability lawyer. Your Pennsylvania slip and fall accident lawyer can not only navigate your case while you focus on your recovery, but they can also investigate to find out who is liable for the damages. They may gather evidence from:
Your personal report of what happened
Witness reports who may have been there
Video evidence of the scene of the accident
Photograph evidence of the scene of the accident
In some cases, we may even be able to recreate the scene to determine what, and how, it happened. This can help you, or witnesses, recall details of it. Your lawyer will also use this information as evidence to prove fault.
Read more: What Do I Need to Know About Filing a Slip and Fall Lawsuit in Pennsylvania?
Shared Fault in a Slip and Fall Case
If we gather proof that someone else is at fault, one of the most common defenses the at-fault party will use is that you played a part in the accident. They may accuse you of ignoring a sign or not taking care, leading you to slip and fall. The good thing is that Pennsylvania is a comparative negligence state. This means that as long as you are less than 50 percent at fault, they may still owe you compensation. Our goal is to carefully investigate the case and reduce your fault as much as possible. If you weren't at fault at all, then we work to prove this.
Stay Within Pennsylvania's Statute of Limitations
It is also important to stay within Pennsylvania's statute of limitations, which is two years from the date of the accident. Because, even if we can prove that someone else was liable, your case is likely to be dismissed if you exceed this timeline. It can take some time to investigate the details of the case, so if you have plans to pursue compensation, it is best to begin the process as soon as possible. You may need the funds to recover, after all.
You may be eligible for reimbursement of medical bills, lost wages, property damages, and other costs related to the accident. This may even include pain and suffering or diminished earning.
Read more: Huge Mistakes Personal Injury Victims Make That Can Impact Your Settlement
Contact a Scranton Personal Injury Lawyer to Discuss Your Slip and Fall Case in Pennsylvania
Did you or a loved one sustain serious injuries due to a slip and fall in Pennsylvania? Don't let the medical bills pile up while you wait for the negligent party or their insurance company to do the right thing. Right now, you need an aggressive personal injury attorney on your side, fighting to get you the compensation you need, want, and deserve. The skilled attorneys at Quinn Logue LLC represent clients injured because of a slip and fall in Bethel Park, Ross Township, Mount Lebanon Township, Penn Hills Township, and throughout Pennsylvania. Call (412) 765-3800 or fill out our online contact form to schedule a consultation about your case. We have an office conveniently located at 200 First Ave., 3rd Floor, Pittsburgh, PA 15222, as well as an office in Scranton, PA.
The articles on this blog are for informative purposes only and are no substitute for legal advice or an attorney-client relationship. If you are seeking legal advice, please contact our law firm directly.