Medical Malpractice and Lack of Informed Consent
September 23, 2020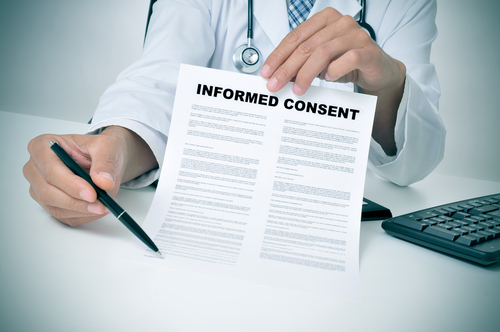 When something goes wrong during a medical procedure, leading to further injury or harm to the patient, the patient may feel that he or she was not given adequate information to make decisions about his or her treatment. A patient has the right to determine what treatment is provided or what procedures are performed on the patient; however, in order to validly exercise that right, a patient requires correct, sufficient information. When a medical provider fails to provide this information, it can lead to a situation known as a lack of informed consent.
Informed Consent Explained
"Consent" means allowing a doctor or other medical provider to perform some treatment on you, whether that be something as simple as getting a flu shot, or something major like open heart surgery. You can verbally consent to a procedure (or nod your head if unable to speak) or you may often be asked to sign a form that documents your consent.
However, a medical provider needs more than just a patient's consent to perform a procedure; the consent must be "informed consent" in order for it to be valid. A patient can provide informed consent when he or she is given information such as:
The name of the provider who will perform the procedure and his or her qualifications
The medical condition that requires treatment
The purpose of the specific procedure to be performed
The reasonably foreseeable risks of the procedure
Alternative treatment options, and the risks of those options
The chances of the procedure's success
The expected recovery process and timeline of recovery
The cost of the procedure and whether it is eligible for insurance coverage
The purpose of this information is to allow the patient to evaluate whether or not he or she wishes to proceed with a proposed treatment, select an alternative treatment, or decline treatment altogether
What Does Informed Consent Cover?
Informed consent does not allow a medical provider to perform any procedure on you; instead, your consent only covers that treatment to which you have expressly agreed. A physician cannot assume what you may have agreed to if given the opportunity; instead, a physician may only exceed the extent of informed consent where necessary to protect your life (in the absence of express directions to the contrary, such as a do-not-resuscitate order).
Informed consent also does not immunize a medical provider from claims of malpractice; although you acknowledge the chance of foreseeable complications from a procedure, the provider still must perform the procedure according to the applicable standards of care. If your doctor commits an act of negligence during the procedure, you still have the right to pursue a claim of medical malpractice.
When Is Informed Consent Not Required?
As noted above, a medical provider can perform emergency procedures when you are facing imminent permanent injury or death. Doctors can also perform routine, non-invasive, non-treatment procedures, such as checking your blood pressure or your reflexes.
Who Else Can Give Informed Consent for Me?
There are often situations when a patient cannot give informed consent and someone else must consent on behalf of the patient. These situations usually involve a child patient, where his or her parent or guardian would provide consent, or an adult who has been ruled incompetent by a court, who would also have a guardian to provide consent. 
Adults can also appoint a medical proxy (such as a spouse, parent, or child), someone that a provider can contact in the event the patient is unconscious or otherwise unable to provide consent
Proving That Lack of Consent Constitutes Medical Malpractice
A doctor's or provider's failure to obtain your informed consent does not itself constitute medical malpractice. Instead, to have a viable claim, you will need to show that the physician's failure to obtain informed consent was a direct and proximate cause of you suffering injury. Typically this means showing that you would not have consented to a procedure if given adequate information, and that the outcome of your treatment would have been different if given proper opportunity to consent.
Contact A Medical Malpractice Attorney for a Consultation About Your Informed Consent Case in Pennsylvania
Were you or a loved one injured due to medical malpractice in Pennsylvania? Then you need to talk to an experienced medical malpractice lawyer as soon as possible for guidance on how to proceed. The Pittsburgh medical malpractice attorneys at Quinn Logue LLC are prepared to assist you with your legal claim. We represent victims of negligent surgeons, doctors, nurses, and pharmacists throughout Pennsylvania, including Penn Hills Township, Mount Lebanon Township, Bethel Park, and Ross Township. Call us today at (412) 765-3800 or fill out our online contact form to schedule a consultation. Our main office is located at 200 First Avenue, Third Floor, Pittsburgh, PA 15222, and we also have offices in Scranton.
The articles on this blog are for informative purposes only and are no substitute for legal advice or an attorney-client relationship. If you are seeking legal advice, please contact our law firm directly.