Suing Your Employer For Misclassification in Pennsylvania
March 26, 2021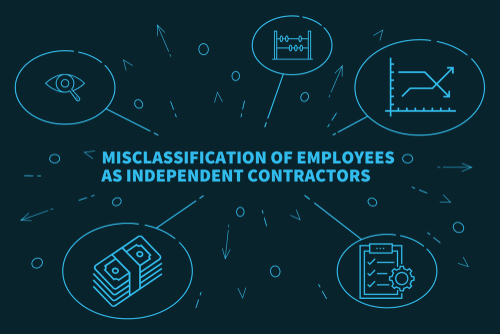 When you were hired, you were brought on as a freelance contractor. But your work hours are now being set and your position seems more like a full-time employee, but without the benefits. Do you have any legal options? Continue reading to learn more about suing your employer for misclassification in Pennsylvania.
What Is an Independent Contractor?
An independent contractor is a person who completes work for a company or organization, under contract. Independent contractors do not follow the same work schedule or receive benefits as a part or full-time employee does. They only work for the company where there is work to complete.
While this is a preferred work style for many and allows employers to receive services without having to bring on a full-time employee, the line often gets blurred. Some employers may begin to expect more from their contractual employees and begin to view them as an hourly employee instead.
Common Industries In Which the Lines Get Blurred
The contractor versus employee line can easily get blurred. This most commonly occurs in the following industries:
Rideshare drivers
Food delivery
Cleaning and janitorial services
Construction industry
These are just a few examples. Contractors can work in many different industries and the risk of being misclassified is always present.
What is Independent Contractor Misclassification?
Independent contractor misclassification occurs when an employer lists an employee as a 1099, or contracted worker, but then treats them as if they are an employee.
If you believe that you were wrongly misclassified, you may have two options to pursue legal action:
File an individual lawsuit: With an individual lawsuit, you alone, will go after your employer.    
File a class action lawsuit: If your employer is well-known for misclassifying contractors and you know there are others in a similar position, then you might join, or file, a class action lawsuit.
In both cases, it is best to work with an employment litigation attorney. Building your case and finding sufficient proof is not always easy. You also need a lawyer who is familiar with Pennsylvania's worker laws.
The line between contractor and employee is commonly blurred because it is not always clear the differences. However, the federal government considers things like when and where the work is done, the specific tools or equipment used, the worker's appearance, and any training or reporting requirements. If the employer has control over these different areas, then they may be treating them like an employee, rather than a contractor.
Filing a lawsuit can make you eligible for compensation to cover back wages and benefits that you should have received if you worked as a full-time employee, rather than a contractor. This is regulated by the Fair Labor Standard Act (FLSA), which your employment lawyer can help you navigate.
Find Out What Your Options Are Today
If you have been doing work as an employee, but you are being paid as a contractor without benefits, then you may be eligible for compensation. By reaching out to a lawyer, you can evaluate the details of your case and determine if you have a case. You may be able to file a claim against your employer.
Contact a Bethel Park Employment Attorney for a Consultation About Misclassification in Pennsylvania Today
If you were misclassified and listed as a contractor while working as an employee, you may have legal options available. The Pennsylvania employment attorneys at Quinn Logue LLC represent clients throughout the state, including Pittsburgh, Penn Hills Township, Mount Lebanon Township, and Bethel Park. We understand how challenging this time can be for you, which is why we will fight hard to protect your interests. Call us at (412) 765-3800 or fill out our confidential contact form to schedule a consultation. We have an office conveniently located at  200 First Ave., 3rd Floor, Pittsburgh, PA 15222, as well as an office located in Scranton, Pennsylvania.
The articles on this blog are for informative purposes only and are no substitute for legal advice or an attorney-client relationship. If you are seeking legal advice, please contact our law firm directly.